Real Time Call Analytics
Get Real-Time Call Insights to Help Your Team Make Data-Driven Marketing Decisions
One of the greatest benefits of call tracking software is the data call tracking provides to sales and marketing teams regarding the performance of their marketing campaigns and marketing channels.
With our call tracking solutions and suite of call analytics software, you can see your campaign performance in real-time. Call Tracker's call tracking software processes data in real-time so that you can see exactly which marketing campaigns and marketing strategy is driving inbound calls.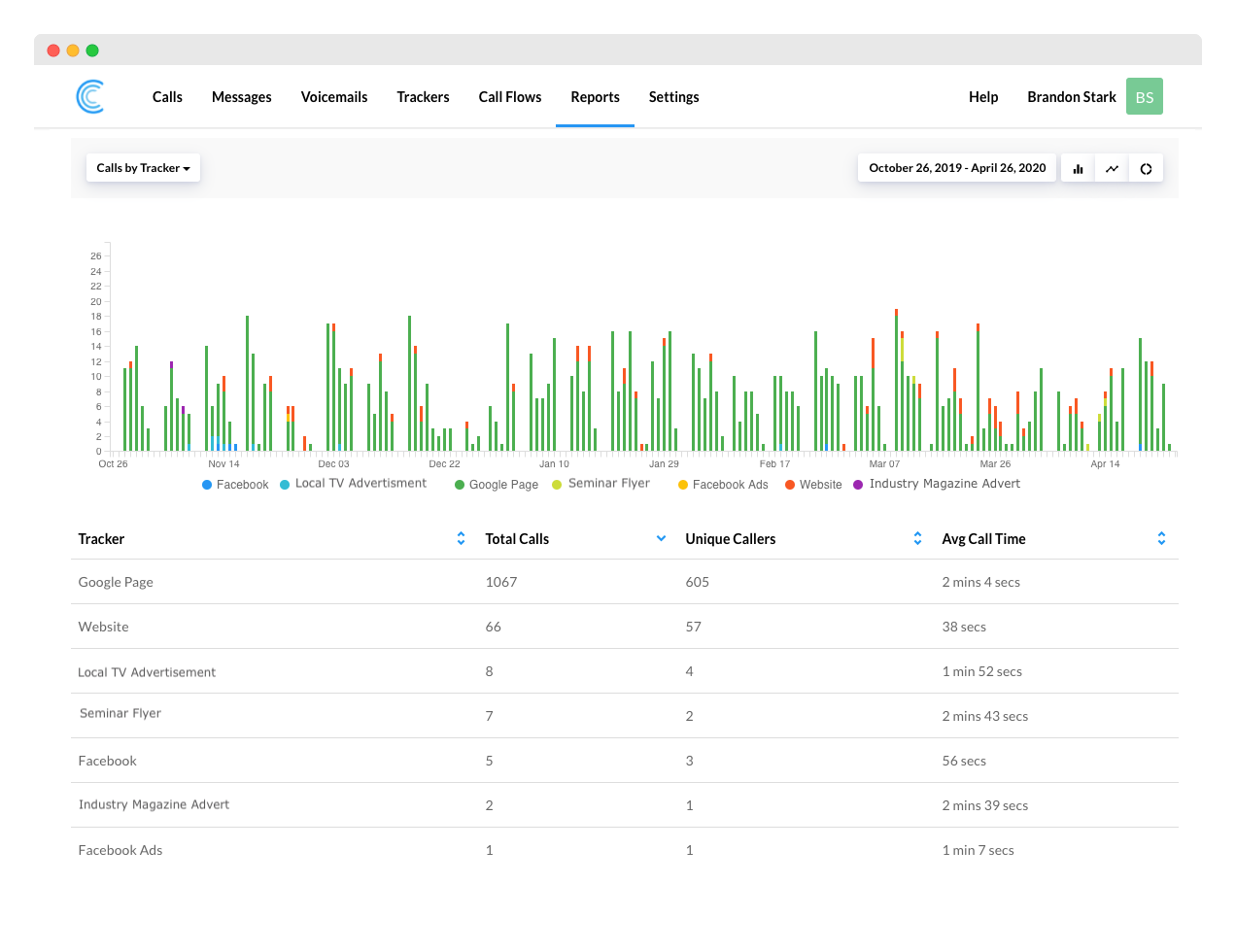 Get Advanced Reporting
Our dynamic number insertion can provide you with accurate and detailed call reports. You will be able to see the incoming calls by date and time, and you will also be able to pull the phone calls by source. You can also use our advanced Number Pool trackers to generate keyword-level call tracking reports to help facilitate your SEO and marketing efforts. Keyword tracking will significantly improve your digital marketing efforts by reaching a broader audience and increasing lead generation.
Call Tracker's Calls Reports Features
Real-time data with no processing times. You will get your call data information while it is happening
Access to all of your historical call data so you can monitor the long term trends
Multiple chart types to help you visualize the data and make it more palatable for your team
Calls by Tracker report that is great for comparing your campaigns and getting a quick analysis
Calls by Keyword report so digital advertisers can track AdWords and keywords performances
Calls by Source Channel so digital marketers can see which of their sources are converting and which are underperforming.
Call data exports for custom reporting and data processing in Excel.
Call Tracking Analytics Can Help Your Marketing Efforts
When you use the Call Tracker's call tracking software suite and begin call tracking, you will find that you are able to shorten your lead response time and improve lead quality. Lead tracking software is the first step to uncovering how you can optimize your customer relationship management.
You will also be able to compare your tracking data, as it comes in, and watch the long-term trends. You will easily be able to see the trends of the incoming calls and compare them to your ongoing marketing efforts. Plus, all of this data is provided in one central location keeping your call tracking efforts easy and convenient across your different marketing channels.
Read more about the Call Tracker reporting features and learn how they can help your business grow.
What Makes Us The Best Call Tracking Software For You
Easy To Use Call Tracking Software
We made usability a priority in designing our call tracking solution. We want our tracking software and call tracking features to be straightforward and promote customer satisfaction. Our integration with Google Ads and Google Analytics ensures effortless tracking functionality.
All phone calls, missed calls, call recordings, and marketing data are just a few clicks away with our innovative call tracking software.
Profiles On Phone Calls
Our call tracking software enables you to establish a comprehensive profile on all phone calls. Our call tracking features give you the ability to add tags to previous phone calls to clearly identify the customer journey of the caller and the marketing campaign that is driving phone calls.
Furthermore, you can tag all inbound calls to display the call duration, thereby tailoring call flows by implementing tools features like interactive voice response, for example.
Real-Time And Historical Reporting Call Tracking Software
Another tracking feature that sets us apart from other call tracking software apps is that we provide you with the ability to reassess past phone calls so you can customize your marketing tactics and generate more leads.
Our integration with Google Ads and Google Analytics allows you to access past call reports and execute conversion tracking based on data gathered over a certain period.
Scalability Of Our Call Tracking Software
You may be a startup with a small team now, but you likely have ambitions to expand significantly in the future. Hopefully, your digital marketing strategies will help you achieve those goals.
You may be concerned that call tracking software apps won't be able to accommodate the large team you aspire to have. What makes us the best call tracking software is that we support teams of all sizes.
Our agency plan allows you to add an unlimited number of users to your account for no additional fee. We accommodate large enterprises and call centers and offer toll-free numbers at reasonable rates, so our dynamic number insertion services can benefit your business optimally.
Real-Time Analytics Call Tracking Tools
With our advanced call routing technology, you are bound to find yourself needing analytics information while still on a phone call.
Our call tracking software helps you deliver a customized caller experience by providing call analytics in real-time. This means that you will have access to all the relevant information you need to close a sale while on your call.
Call Reporting
If you plan to use our call tracking software, particularly for sales team development, you undoubtedly require efficient call recording features.
With our call tracking software, you can record calls and have your sales team review the call recording at a later stage to identify areas that need improvement.
Keyword Tracking
Another feature that makes us the best call tracking software you will find is our keyword tracking features.
Digital marketing has become the pyramid of marketing campaigns in our modern age. However, your web content is of little use if people cannot find it. Keywords are crucial to ensuring your website ranks and customers find your business before they find any alternatives.
Our call tracking software also includes keyword tracking, so you can identify the terms that elevate the quality of your content and incorporate them accordingly.
Without knowing which keywords drove a customer to your business, you are missing out on valuable information regarding your lead generation. Therefore, this form of lead tracking is essential in creating practical web content.